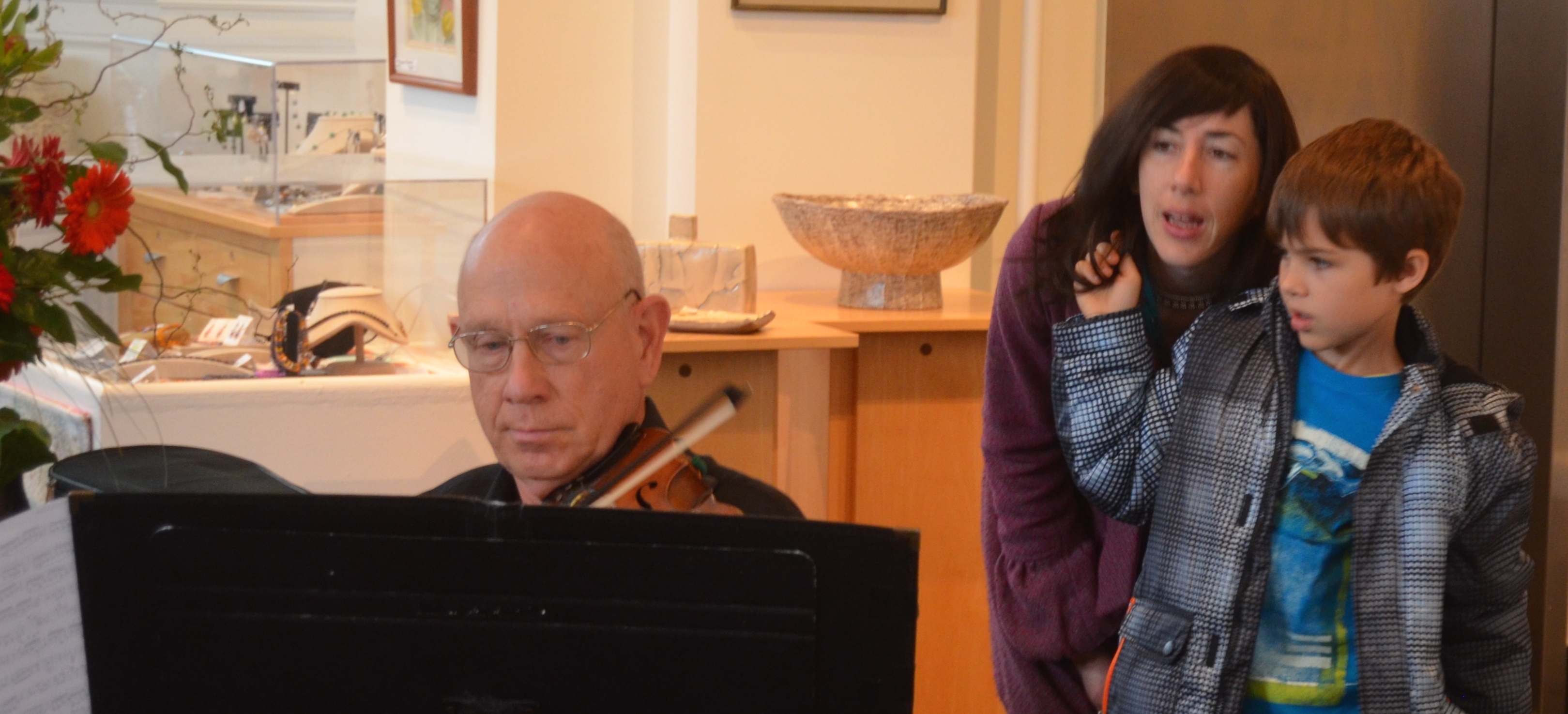 On this page: → Conductor, → Sheet Music Library, → Board Members, → Other Notables
Our Conductor
Laura M. Thomas, Music Director
Dundas Valley Orchestra Music Director, Laura Thomas, is a conductor, arranger, composer, percussionist and teacher. In addition to her position with the DVO, she is also the Associate Conductor of the Niagara Symphony Orchestra, Music Director of the Niagara Youth Orchestra, and Artistic Director of the Hamilton/Niagara area WomEnchant Chorus.
Her guest conducting appearances include the Huronia Symphony, Etobicoke Philharmonic, the North York Concert Orchestra, Niagara-on-the-Lake Sinfonia and the Bard Chamber Orchestra. She was, for six years, Artistic Director of the Niagara-based choir, Choralis Camerata. Ms. Thomas holds a master's degree in conducting from New York's prestigious Bard College, where she studied with Harold Farberman. She is also a graduate of Hamilton's Mohawk College and McMaster University, where she studied percussion and composition. Currently, she is the percussion instructor in the Music Department of Brock University's Marilyn I. Walker School of the Fine and Performing Arts.
Ms. Thomas has written music for symphony orchestras, choirs, small ensembles, jazz groups and solos. Her compositions and arrangements can be heard in the orchestra and ensemble repertoire of Flutes en Route! featuring Douglas Miller. She composed and recorded the soundtrack for the puppet play "Bullying Hurts" written by Monica Dufault and produced by Mainstream St. Catharines. Many of her songs can by heard in performances and on recordings by Niagara's eclectic folk/blues band, BroadBand. In March 2013, her Concerto for Jazz Trio and Orchestra was premiered by John Sherwood and the Niagara Youth Orchestra. In addition to composing for various vocal/instrumental ensembles and stage productions, Ms. Thomas developed and delivers the popular Composer in the Classroom educational program in Niagara area schools.
Ms. Thomas has been the Principal Percussionist with the Niagara Symphony Orchestra since 1985. She has performed with many ensembles throughout Southern Ontario and Western New York, including the Buffalo Philharmonic, the Hamilton Philharmonic, the Te Deum Orchestra, and the Aradia Ensemble. She is a member of the folk/blues quintet BroadBand, and performs regularly with her Vintage Jazz ensembles.
Her recording credits include the Aradia Ensemble's CD for Naxos Records, "Ballet Music for the Sun King", the Niagara College Jazz Band's "On the Move", Rich Blend's self titled CD, sisterLune's "Wonder", BroadBand's "LIVE at the Black Sea Hall" and "BroadBand", and the WBFO Blues compilation "WBFO Gives Me The Blues, Vol.5"
DVO Sheet Music Library
Information about our Library of Sheet Music →
Orchestra Board Members
Elected board members
| | |
| --- | --- |
| President | Margaret Sherman-Bell |
| Vice President | to be filled |
| Past President | Lynne Calnek |
| Treasurer | Ron Sealey |
| Secretary | Jim Jones |
| Members at Large | Margaret Jamieson, Rudin Knights, Baya Vertes, Glenn Welbourn |
Ex-Officio Board Members
| | |
| --- | --- |
| Music Director | Laura Thomas, M.F.A., B.Mus. |
| Concert Master | Naomi Dore Brown |
| Librarian | Homer Seywerd |
| Composer in Residence | Mark Thomas |
| Archivist | Peter Hill |
Other Notables
| | |
| --- | --- |
| Webmaster | Simon Woodside |
| Our Patrons | Dr. Doug Barber and Mrs. June Barber |
The Dundas Valley Orchestra's CRA Charitable Registration number is 118889476 RR0001.